More About Patti
Patti Lillard is a native of Madison County, Virginia. She joined Montague Miller & Company, an established real estate agency in Madison, after a 24 year career with Virginia Housing Development Authority's Housing Choice Voucher Program through Orange County Social Services.
Patti received her B.S. degree in Housing and Family Development from Virginia Tech University. Celebrating strong family life and tradition is very
important to Patti. Her husband Steve is a life-long Madison county resident and a Forestry graduate from Virginia Tech. They have a son Brent, is a
graduate of George Mason University in Fairfax, Virginia, and a daughter Kari who is a graduate of Old Dominion University in Norfolk, Virginia.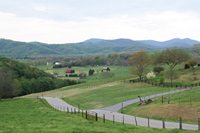 After working extensively with many tenants and landlords in Orange County, Patti is enthusiastic about her real estate career and having the opportunity to be a friendly guide to families who are moving to the Blue Ridge Mountain region of Virginia. Patti is especially familiar with the Madison County, Orange County and Greene County areas, and never misses an opportunity to visit new properties.
If you are interested in having Patti assist you in your search for a Blue Ridge Mountain home or Madison area land or the surrounding counties, call or e-mail her today. She takes pride in responding promptly and will make every effort to assist you in buying or selling property. Contact Patti.
Madison County VA Real Estate – Exceeding Your Expectations